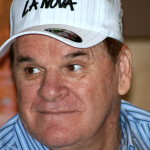 Pete Rose is hoping for the same sort of success in selling his Los Angeles home that he found during his legendary Major League Baseball career. The all-time hit leader has listed his home for $2.15 million, as first reported by the L.A. Times.
Rose bought the home in 1999 with his second wife, Carol, for $913,500, according to public records. Rose filed for divorce in 2011 and primarily lives in Las Vegas now, although his new fiancee, 31-year-old Kiana Kim, still lives in the L.A. area. The two star on TLC's reality show "Pete Rose: Hits and Mrs.," which debuted this past spring.
Rose's L.A. home is situated in the Sherman Oaks neighborhood at 13348 Chandler Blvd. The contemporary Spanish-style home measures 4,719 square feet with 6 bedrooms and 5 baths. The residence is described as an "entertainer's home" with a grand foyer, custom pool and spa, and a patio with a kitchen and bar. The master suite includes a balcony and private spiral staircase.
Rose began his MLB career in 1963 and was named Rookie of the Year. He also garnered a Most Valuable Player title and topped Ty Cobb's hit record in 1985. However, revelations of his gambling, while playing and later while as the Cincinnati Reds' manager, led him to be banned from baseball for life. His ban has made him ineligible for the Hall of Fame.
A monthly payment on Rose's home would be about $8,410, according to Zillow's mortgage calculator and assuming 20 percent down on a 30-year fixed mortgage.
The listing is held by Gloria Hicks of Rodeo Realty.
Related: